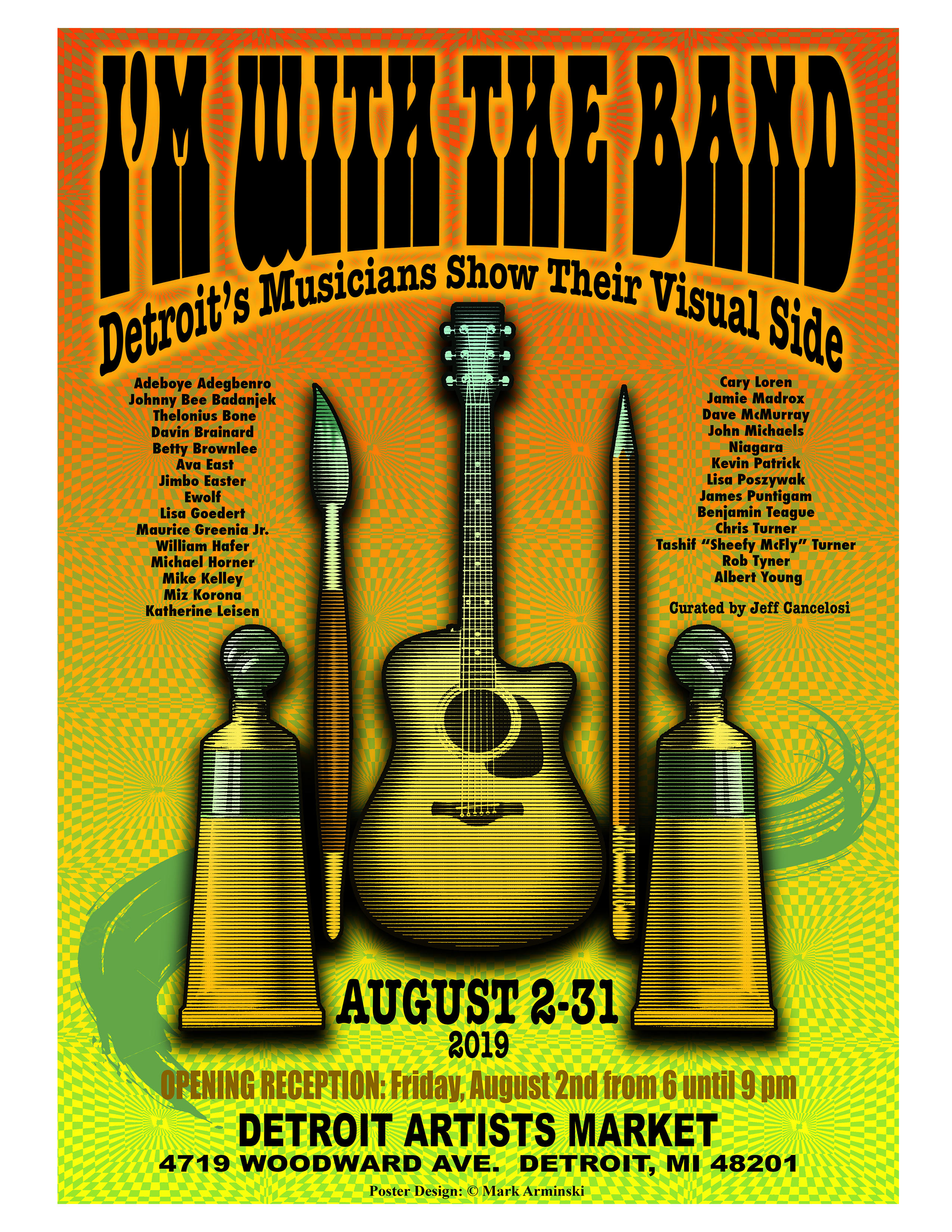 Poster Designed by Mark Arminski. Limited signed editions of the exhibition poster will be available at the opening reception for I'm With the Band.
I'm with the Band: Detroit's Musicians Show Their Visual Side
Curated by Jeff Cancelosi
Is there a difference between the interplay of color and shadow and the bending of a note over a percussive beat? For many in Detroit's creative community, visual and musical art are the same. Creativity is expression, no matter what the medium. Please join the Detroit Artists Market as we explore the artwork of Detroit's rockers, rappers and jazz musicians and how they each respond to the blank canvas.
SPECIAL EVENTS
Saturday, August 3, 2019 at 1 p.m.
The Three Worlds of Rob Tyner: Rock Musician, Mentor and Dad
Join award-winning journalist and former editor at Detroit's Creem Magazine Susan Whitall as she moderates a discussion on the life of MC5 lead singer and exhibiting DAM artist Robin Tyner. Joining Ms. Whitall in the conversation will be Mary Cobra (of the Detroit Cobras), Becky Tyner and Robin Tyner Jr.
Saturday, August 10, 2019 at 1 p.m.
Mark Arminski: Blurring the Lines between Art and Design
In the late 1990s poster artist Mark Arminski was at the top of his game producing work for national acts like Iggy Pop, Patti Smith, Weezer, Red Hot Chili Peppers and the Smashing Pumpkins. But the posters had limitations and were only a part of his creative output. Join us as Mark discusses his current creative practice, which goes way beyond the poster.
Saturday, August 17, 2019 at 1 p.m.
Tashif "Sheefy McFly" Turner Paints a Work of Art and Gets Personal
Up-and-coming musician and visual artist Tashif "Sheefy McFly" Turner is also a walking work of art — from his clothes to his hair. Join us as Sheefy talks about his style while fellow artist Michael Horner "finger waves" Sheefy's hair, then stay and watch Sheefy paint a new work while Chicago-based DJ/producer DeeJay Earl creates a soundtrack for the performance. Stick around to bid on Sheefy's painting!
Participating Artists
Adeboye Adegbenro (Odu Afrobeat Orchestra)
Johnny Bee Badanjek (Mitch Ryder and the Detroit Wheels, Edgar Winter, The Rockets, Alice Cooper, Dr. John, Albert King, Nils Lofgren, The Romantics)
Thelonius Bone (Everybody's In, Invader, Razzle Dazzle)
Davin Brainard (Solo Artist, Princess Dragonmom, Little Princess, Electric Bear, Metal Dungeon, The Crash, Fab.44)
Betty Brownlee (Nathaniel Mayer, The Shanks, Uncle Jessie White, Gino Washington)
Ava East (Shadow Show, Deadly Vipers)
Jimbo Easter (Solo Artist, Living Furniture, Piranhas, Druid Perfume, Odd Clouds, Moonhairy)
Lisa Goedert (The Luddites)
Maurice Greenia Jr. (Spaceband)
William D. Hafer (Human Eye)
Michael Horner (Marcus Belgrave Group, Teddy Harris Jr., Big Joe Williams, Messiah)
Mike Kelley (Destroy All Monsters)
Miz Korona (Miz Korona Band)
Katherine Leisen (Soft Location)
Cary Loren (Destroy All Monsters)
Jamie Madrox (Twiztid)
Dave McMurray (Dave McMurray Band)
John Michaels (The Britemores)
Niagara (Destroy All Monsters, Solo Artist)
Kevin Patrick (Solo Artist)
Lisa Poszywak (Rogue Satellites)
Jim Puntigam (Spaceband)
Ben Teague (Behind the Times, Solo Artist)
Chris Turner (Dark Red)
Tashif "Sheefy McFly" Turner (Solo Artist)
Rob Tyner (MC5, The Rob Tyner Band)
Ewolf (The Dirtbombs)
Albert Young (Albert Young and Straight 8, The Waynewood Boys)