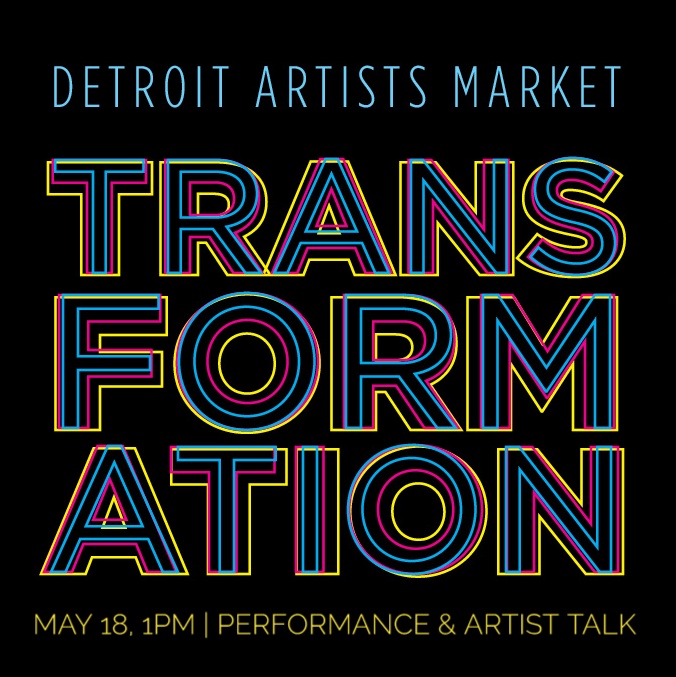 Please join us at the Detroit Artists Market for this wonderful opportunity to meet the artists of Transformation. To open our event, Noura Ballout will explore the intersectionality of gender, race, and religion as projected on the body through performance.Please see below for Ballout's artists statement. Afterwards, our artist speakers will discuss their inspiration, process, and intention with the audience. Active participation is encouraged for this portion of the event. Food and drinks will be provided by the gallery.
Noura Ballout
My practice revolves around exploring the many facets of "home." Faced with the disorientation I felt as an immigrant in Detroit and Dearborn, I optimistically returned to Beirut, only to be overwhelmed with a deep sense of mourning at the realization that I had assimilated into an American identity; even thinking and dreaming in English instead of Arabic. Moreover, since my adolescence I have failed to feel at home within my own body. Before coming to terms with the scope of possessing a female anatomy, I felt estranged from socially and culturally enforced gender binaries. Feeling as though I belong neither here nor there, I had to forge my own definitions of what I truly am.

In the early explorations of my body, I used the medium of photography to try to understand my own gender, but had yet to develop the linguistic capabilities to discuss what I was actually experiencing. I became convinced that home was in the people I loved and began documenting our relationships. As my work progressed, I came to the realization that I can't make homes out of people, until I have come home to myself first.

This "coming home to myself" wasn't an easy journey. Coming to terms with my gender revealed an internalized transphobia on the part of my own queer community. A community that I spent my early adult years building with. This unforeseen and adverse reaction to my developing masculine body led me to create work about the complex subject of trans-masculinity, such as the Construction of the Savage series. These works present glimpses into my journey of navigating societies which systematically negate, challenge and control trans bodies.

My mission is to build bridges between the communities of the intersectional identities that I carry within me. My purpose is to break stigmas and biases that have historically kept communities apart and underrepresented. Through my practice I grow closer to becoming the adult I wish I had in my life growing up as a young Arab, queer, Muslim, and trans-masculine person. I wish to be this person for a younger generation coming up after me. Being misunderstood, first by myself, and later by society at large, I want to humanize being queer to cis and heterosexual Arabs and I want to humanize being Arab to queer people, as well as the greater American community.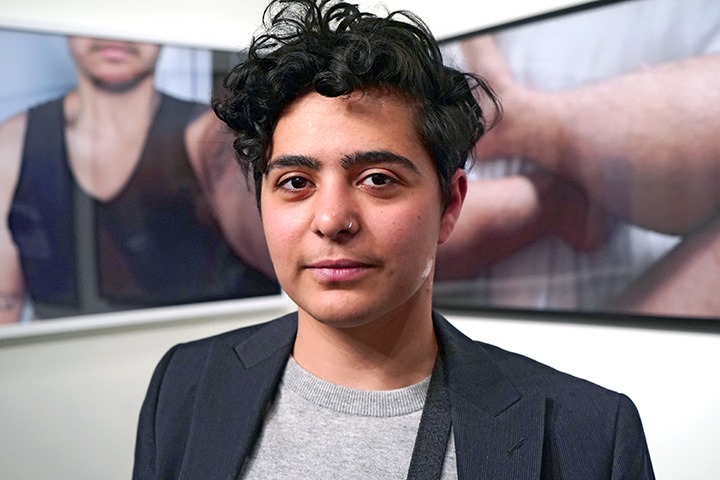 Noura Ballout stands in front of their photos "BOI Portrait" (detail) and "Manhood" (detail) , Photo Credit: Jeff Cancelosi